| | |
| --- | --- |
| High Pressure Deflagration Arrestor Series/Model B | |
---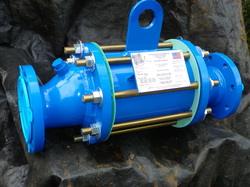 Tested as per API 2028 Section 5 Para b, for High Pressure Deflagrations
Designed & Tested for Short Flare Stacks up to 60' with an elbow at the base.
Available in Eccentric and Concentric end section configurations.
​The Paradox Deflagration Flame Arrestor is designed to stop the propagation of a deflagration beyond the capabilities of a conventional end of line flame arrester. They are ideal for short flare stacks (<60ft.) with a ninety-degree elbow at the bottom. The deflagration arrester is bi-directional and will stop both low and high-pressure deflagrations.
Like our detonation arresters, the deflagration flame arresters have crimped ribbon with screen sections that allow for much larger cells than that of competitive crimped ribbon arresters, allowing maximum flow with maximum protection and requires less frequent maintenance due to clogging and greater ease in cleaning when service is required. This translates to less down time. Our element offers maximum flow to pressure drop characteristics enhancing the value of our product in any system.
Our deflagration arresters are designed with flanged connections, this Arrestor provides the option of the removal of the flame cell (element) for easy cleaning and replacement without disconnection of the pipe connection flanges. Standard housing construction is carbon steel and stainless steel. The deflagration arrester element is available in 304SS, 316SS and Hastelloy.
---