| | |
| --- | --- |
| Testing & How Flame Arresters Work | |
​The Flame Arrester Working Principle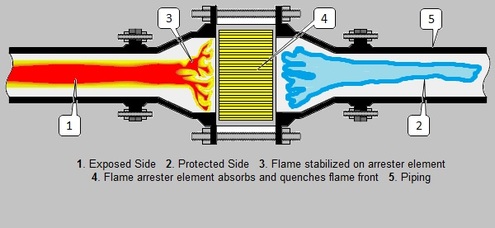 Most flame arrester applications are in systems that collect gases emitted by liquids and solids. These systems, commonly used in many industries, may be called vapor control systems (VCS). The gases typically vented to the atmosphere or controlled via vapor control systems are flammable. If the right conditions are such that ignition occurs, a flame inside or outside of the system could result, with the potential to do catastrophic damage.

Under normal operating conditions, a flame arrester works by permitting a relatively free flow of gas or vapor (2) through the piping (5) system. If the mixture ignites and the flame (1) begins to travel back through the piping, the arrester will prohibit the flame (3) from moving back to the gas source (2).

All flame arresters have the same principle: removing heat from the flame as it attempts to travel through narrow passages with metal walls or other heat-conductive material (4). Flame arresters are passive devices with no moving parts. They prevent flame propagation from the exposed side of the unit to the protected side by using wound crimped (corrugated) metal flame cell "element or matrix." For instance, flame arresters made by most manufacturers employ layers of metal ribbons with crimped corrugations(4).

The flame arrester's carefully constructed matrix of uniform openings quenches the flame by absorbing the flame's heat. This process provides an extinguishing barrier to the ignited vapor mixture. It is how a flame arrester work to prevent catastrophes from occurring due to the ignition of air/gas vapor mixtures propagating through piping systems.


---