The Worlds First Detonation Flame Arrester Designs. We Specialize in detonation flame arresters, deflagration and in-line flame arresters!
Our staff has been developing detonation flame arrester technology since 1989, not only have we designed some of the very first detonation flame arresters in the world, but were also instrumental in participating in the writing of the strict safety standards that set the bar by which detonation flame arresters of today are gauged and built.
We started out as a research and development and testing laboratory, licensing and selling
technology to manufacturers
and industry. After filing a number of patents on detonation flame arresters over a twenty year period, Dwight Brooker, inventor and the founder of Paradox, decided that manufacturing was the next logical move for corporate growth and new
challenges
.
Why Detonation Flame Arresters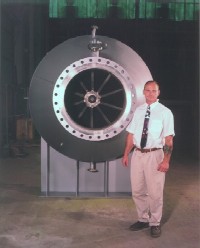 Meeting increasingly stringent federal, state, and local
air quality regulations
and complying with higher
safety standards
requires advanced technological solutions.
Paradox Intellectual Properties Inc. provides quality products in the design,
patent
, testing and manufacture of Flame Arresters, to meet the technological challenges of environmental and safety standards. Our staff have been leading the effort in meeting these environmental technological challenges since 1989.
Detonation Flame Arrester products were created in response to environmental regulations (
such as The Clean Air Act
) which required liquid product storage terminals and
hydrocarbon
processing plants to control evaporation hydrocarbon
emissions
from loading and storage operations In 1989 this new regulations now required the recovery of gaseous vapors and their incineration necessary. This is a required alternative to the practice of venting gases into the atmosphere. Incineration and vapor recovery, however, create greater safety risks. Companies that engage in this operation have critical safety concerns. In systems containing flammable liquid and vapor products, protection against flashback is vital as conditions exist for potential detonations.
This process is called vapor control. Two types of recognized vapor control technologies are commonly used; carbon adsorption
vapor recovery
and vapor destruction or combustion. Vapor destruction systems include elevated
flare systems
, enclosed flare systems, burner and catalytic
incineration
systems, and waste gas
boilers
. Both systems require flame or detonation flame arresters to maximize safety. Detonation flame arresters are used in many industries, including
refining
,
pharmaceutical
,
chemical
, and
petrochemical
,
pulp and paper
,
oil exploration
and
production
,
sewage treatment
,
landfills
,
mining
,
power generation
, and
bulk liquids transportation
.
Flame arresters
are passive devices with no moving parts. They prevent the propagation of flame from the exposed side of the unit to the protected side by the use of metal matrix creating a torturous path called a flame cell or element. All detonation flame arresters operate on the same principle: removing heat from the flame as it attempts to travel through narrow passages with walls of metal or other heat-conductive material, but unlike
flame arresters
, detonation flame arresters must be built to withstand extreme pressures that travel at supersonic velocities, 1,500 psia @ 2500 m/sec is not uncommon with a group D Gas.
Our
Tested and proven
Detonation Flame Arrester
designs currently provide the maximum
flame arrestment protection and
reliability and are economically priced. Paradox D
etonation Flame Arresters have been accepted by the
U.S. Coast Guard
, the benchmark of U.S. performance standards, for use in Marine Terminals. We currently have 96 US Coast Guard approved models, more than any other US company.
Overall
, Paradox has more than 200 flame arrester models for various applications and gas groups, including hydrogen.
Our unique design features allow for
larger flame channels
that require less maintenance and provide greater ease in cleaning when service is needed. Paradox Detonation Flame Arresters are bi-directional and built to withstanding both low and high pressure deflagrations as well as stable and overdriven detonations. The Group "D" element is rated a Type I for flame stabilization with an initial operating pressure of 22.7 psia.
Detonation Flame Arresters are installed in a variety of systems such as;
Storage tank facilities
Offshore drilling and production platforms Oil/petrochemical refineries
Chemical processing plants
Pulp and paper plants
Pharmaceutical manufacturing facilities Natural gas supply lines
Flare stacks
Vapor Control Systems

Vapor incineration systems
vapor recovery systems

Landfill gas incineration
Sewage treatment vapor processing
Check out our "PRODUCTS" page for detailed information on our flame arrester products.
---