| | |
| --- | --- |
| Pipe Threaded Inline Deflagration Arrestor Series/Model A-TIN | |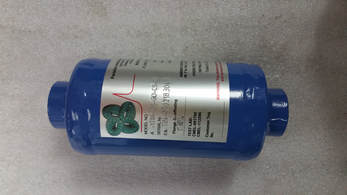 UL-525 & FM Tested
Inline Flame Arrester with threaded pipe connections should be mounted within 10' to 20' of ignition source.
Threaded In-Line on small diameter pipe.
Available in 1/2" NPT through 4" NPT
Standard housing construction is carbon steel and stainless steel.
The element is available in 304SS, 316 SS & Hastelloy
Two styles of threaded deflagration arrester available; heavier built models for high pressure systems (2500+ Pisg) and the standard unit for regular applications (rated for 150 Psig).
---
As with the Paradox Inline Flame Arrestor, our threaded inline deflagration arrestor, prevents flame propagation by acting as a heat sink, cooling the flame front to cause it to be extinguished. This heat sink is made from spiral wound crimped ribbon that allows gas to flow with a minimum pressure drop.
Inline Flame Arrester with threaded pipe connections are recommended for use on pipe lengths of between 10' & 20' with one (1) bend pipe bend only. In addition, it stops confined and unconfined, low pressure deflagrations. All Paradox units are bi-directional and are proven to stop an ignited flammable vapor mixture of it designed gas group, approaching form either direction traveling at subsonic velocities.
​