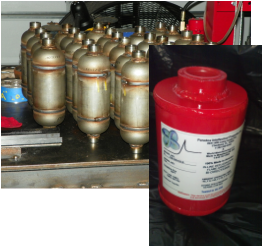 Series A-TIN & A-TIN-H Inline Pipe Threaded Flame Arrestor
UL-525 & FM Tested
To be mounted within 10' of ignition source
Threaded In-Line on small diameter pipe.
Available in 1/2" NPT through 4" NPT
Standard housing construction is carbon steel and stainless steel.

The element is available in 304 S.S and 316 S.S.
Two styles available; the domed end for high pressure systems and the flat ends for regular applications.

---
As with the Paradox Inline Flame Arrestor, our threaded inline flame arrestor, prevents flame propagation by acting as a heat sink, cooling the flame front to cause it to be extinguished. This heat sink is made from spiral wound crimped ribbon that allows gas to flow with a minimum pressure drop.
Flame Arresters are only used for pipe lengths of less than 10 feet with NO bend pipe bend. In addition, it stops confined and unconfined, low pressure deflagrations. All Paradox units are bi-directional and are proven to stop an ignited flammable vapor mixture approaching form either direction traveling at subsonic velocities.