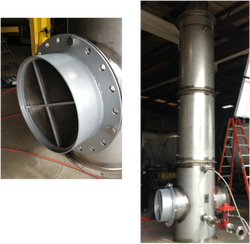 Model A-MTF Burner Intake Flame Arrestor
Designed to stop the ignition of a potential atmospheric gas cloud created by a possible leak at the site. If the gas cloud were to be sucked into the burner intake, the ignition of the gas from by the burner is prevented.
Four sizes available 12", 24", 36", 42" & 48"
Special sizes can be designed as required, up to 72"
The standard model has a butt weld connection with no flange.
A plate flange connection can be supplied as per customers drawing. (*.dxf or *.dwg file supplied by customer)
---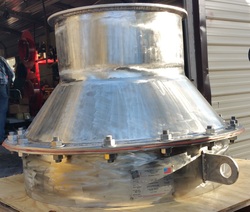 Burner/Intake Plenum and 36" MTF Flame Arrester

This unit was a special design that was mounted on a flat bed truck as part of a portable gas vaporizing system in Canada
---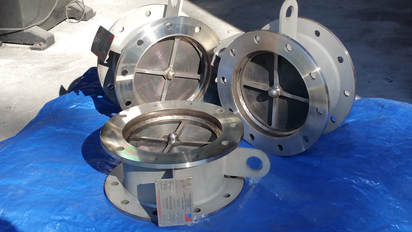 These are model A-MTF121F-GD-S-S Flame Arresters of all 304SS construction were built for Procter & Gamble to install in their new Aerosol Lab​ ventilation hood.
The A-MTF's can be supplied with no flanges for butt welding or with a single flange like in the burner intake or it can be mounted into a sheet metal HVAC ductwork.

---