Paradox Intellectual Properties Inc., Flame Arrester Manufacturing & Sales.


Toll Free 1-844-NO BOOM1 (1-844-662-6661)
Phone: 352-493-2111 or 352-493-7336 Fax: 352--493-4401
Skype: flamearrester.paradox or 1-352-505-1936

---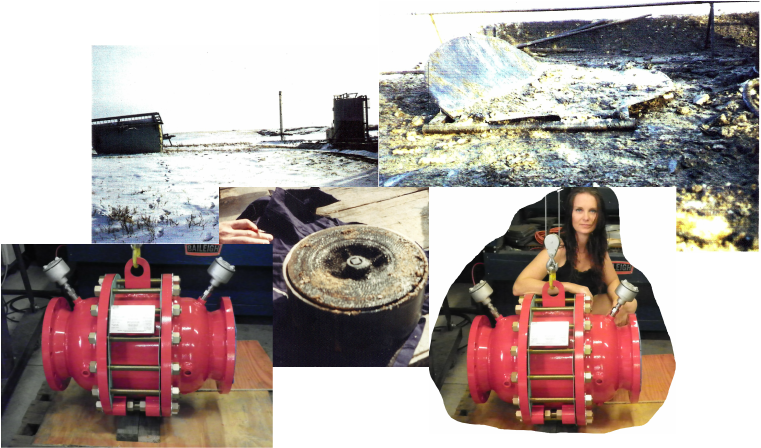 Photo's above: Explosion of oil storage tanks as a result of a poorly maintained flame arrester that had an aluminum element that had erode. The flame arrestor was also placed at the bottom of a flare stack, beyond its capabilities. Flame arrestors will fail if improperly installed beyond their rated run-up distance of 10 feet. Unfortunately due to of lack of flame arrester knowledge, they are improperly installed often, being selected for economic reasons. Photos of the red flame arrestors are Paradox Model A-8C-GD-CS-S-DPT, a group "B" Flame Arrestor.
Flame arrestors
,
(also spelled flame arrester)
, are a critical safety devices and a component in the safe operation of vapor control systems.
Flame arrestors
are passive devices with no moving parts. They prevent the propagation of flame from the exposed side of the unit to the protected side by the use of metal matrix creating a torturous path called a flame cell or element. All flame arrestors operate on the same principle: removing heat from the flame as it attempts to travel through narrow passages with walls of metal or other heat-conductive material.
An inline flame arrestor or end of line flame arrester are used to protect storage tanks or in systems with short pipe lengths (no more than 10 feet) from the possible ignition source, .
Flame arrestors are very common devices that have been used for at least 100 years. Some flame arrestor manufacturing companies have had the end sections cast off-shore in an attempt to keep cost down. These casting have been reported to fail during assembly in the field from nothing more than an operator tightening the bolts during an element replacement. Not only are Paradox flame arrestors competitively priced, (in most cases less expensive) they are made from standard ANSI certified and rated components that will never break during normal use.
See our Series A, AV, ASV & A-TIN Flame Arrestor products!
---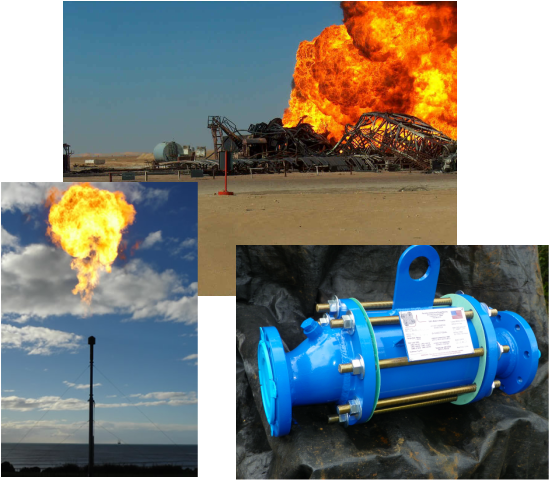 Above: Explosion of Oil rig possibly due to improperly place flame arrester. Below: Portable flare stack.
HP Deflagration flame arresters (flame arrestors) are an inline flame arrestor that will stop the propagation of a flame front that has higher pressures/velocities from a
deflagration
than a regular flame arrester can deal with.
Quoted text from API 2028 5.3 POTENTIAL EFFECTS OF INSTALLATION GEOMETRY
The geometry, size, and length of piping and piping systems are important to consider when selecting a flame arrester. It is possible that the level of turbulence generated by combinations of these factors may render a fame arrester incapable of quenching a fame front. Studies have noted that a correlation of the performance of a fame arrester and piping size is not always possible. It may be necessary to have tests performed for the particular size of fame arrester proposed for use.
As per
API 2028 5.3
, our
Series "B" HP Deflagration Flame Arrestors
are designed and tested in pipe sizes 2", 3", 4" , 6", 8", 10", & 12" in an actual application simulating a short
flare stack
of 60 feet with a 90 degree bend at the bottom.
---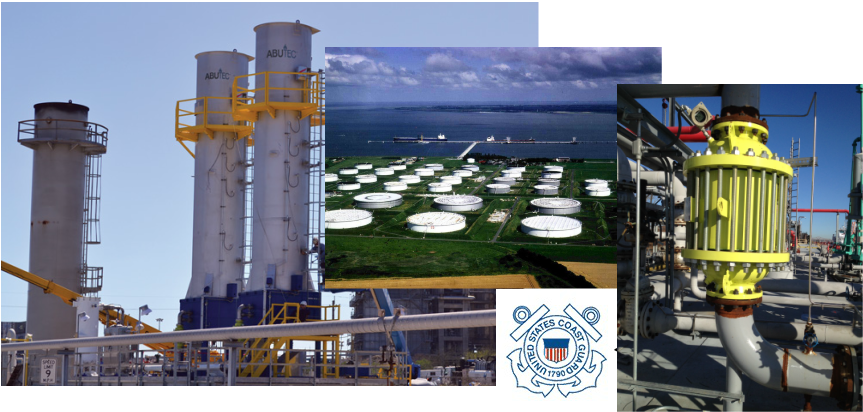 Left: USCG Approved Marine vapor combustion system with Paradox Detonation Arrestor. Top Middle: Marine Terminal, Far Right, Paradox Detonation Flame Arrestor @ Placid Refining LA.
A
detonation flame arrester
is a device fitted to the opening of an enclosure or to the connecting pipe work of a system of enclosures and whose intended function is to allow flow but prevent the transmission of flame propagating at
supersonic velocity and characterized by a shock wave
(designed to prevent the transmission of a detonation). Detonation flame arrestors (detonation arresters) give the best protection available in a passive device. They can be mounted any where in the piping system and can stop the propagation of all types of deflagrations, over-driven detonations, stable detonations and any flame propagation phenomena possible.
They are typically used in Marine Fueling Terminals, Refineries, Petrochemical plants, Trucking Terminals and where-ever long lengths of pipe are transporting ignitable vapors.
More than any other manufacturer; Paradox has 96 detonation flame arrester models that have been
"Approved" by the United States Coast Guard
for use in Marine
Vapor Control system
applications. This technology has been used and proven in the industry for more than 20 years. See our
Series "C" & C-FH Detonation Flame Arrestor USCG Approved products
.
---